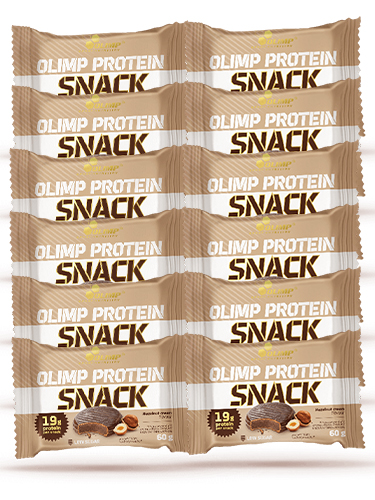 OLIMP SPORT NUTRITION Protein Snack 12x60g (Hazelnut)

Quick overview
Gaufrette protéinée
19g de proteines par portion
seulement 1g de sucre
Disponible en deux saveurs
Excellente alternative aux sucreries !

24,97 €
$ 27.47
$ 36.46
24.97

Ship to

calculate shipping cost
Secure and reliable payment with

OLIMP SPORT NUTRITION Protein Snack 12x60g
Faites-vous de l'exercice? Avez-vous adopté une alimentation saine? Peu importe si vous développez votre masse musculaire, réduisez votre masse graisseuse ou souhaitez maintenir votre poids, Olimp protein snack est fait pour vous!

Ce délicieux biscuit croquant est une excellente source de calories saines, riche en protéines et en fibres. Fini les sucreries et les envies de grignotages malsains! Olimp Protein Snack contient seulement 1 g de sucre!

C'est une collation idéale aussi bien avant qu'après l'entraînement. Parfait pour un cheat meal avec lequel vous fournirez à vos muscles une portion copieuse de 19g protéines et ce n'est pas tout! À chaque bouchée de la gaufre croustillante enrobée de chocolat, vous ressentirez le goût exceptionnel de la crème de noisette ou du délicieux chocolat! Un vrai régal pour vos papilles et une belle récompense après un entraînement intensif!

Ingredients
mélange de protéines (hydrolysat de collagène, concentré de protéines de lactosérum (lait)), graisse de palmiste, 10% enrobage aromatisé au chocolat [édulcorant: maltitols; graisses végétales (palme, palmiste, karité), 13% cacao maigre (beurre de cacao 10-15%), émulsifiant: lécithines (de tournesol)], 10% cacao, 9% gaufrette [farine de blé, amidon de blé, sucre, stabilisant: maltitols; émulsifiant: lécithines (de soja); huiles végétales (noix de coco, soja), sel, colorant: E 150d; édulcorant: acésulfame-K; arôme, sirop de glucose, correcteurs d'acidité: carbonates de sodium, carbonates d'ammonium], stabilisant: maltitols; édulcorant: sucralose.

Allergen information
Contient du lait, oeuf, gluten, soja. Peut contenir des traces de crustacés, de dioxyde de soufre et de fruits à coque.

Advice for use
Collation saine qui se consomme dans le cadre d'une alimentation saine, avant ou apres un exercise physique. Une fois l'emballage ouvert, à consommer le jour même. À conserver dans un endroit frais et sec à l'abri de la lumière du soleil.

Cautionary note
Ne pas utiliser comme substitut à une alimentation équilibrée et variée.
Tenir hors de portée des enfants. Une consommation excessive peut avoir des effets laxatifs.