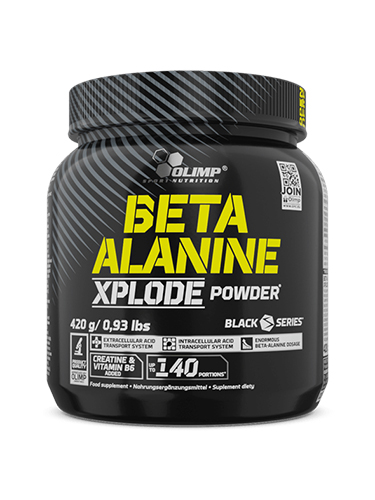 OLIMP SPORT NUTRITION Beta-Alanine Xplode Powder (Orange, 250g)

Quick overview
Food supplement in powder form, characterized by excellent solubility, exceptional bioavailability of active ingredients and a sensational and refreshing orange aroma.
Up to 1300 mg of high quality beta-alanine in each serving.
Helps reduce the feeling of fatigue (vitamin B 6).
Helps maintain a good energy metabolism as well as protein and glycogen metabolism (vitamin B 6).
Helps in the proper functioning of the nervous system (vitamin B 6).
15,97 €
$ 17.57
$ 23.32
15.97

Ship to

calculate shipping cost
Secure and reliable payment with

OLIMP SPORT NUTRITION Beta-Alanine Xplode Powder
Are increasing fatigue and insufficient endurance preventing you from reaching your goal? Take it easy! The Olimp Sport Nutrition brand is ready to help you! The food supplement Beta-Alanine Xplode Powder is a preparation in perfectly soluble powder form, which contains high-quality beta-alanine, enriched, among others, with creatine monohydrate, vitamin B 6 and L-histidine.
This is another product of the incredible Xplode series, so loved by both top athletes and amateurs. It consists of supplements characterized by excellent solubility, high bioavailability of active ingredients, amazing flavors and exquisite quality of raw materials tested for purity and safety in use! By choosing the preparation of the Xplode series, including the Beta-Alanine Xplode Powder formula, you can be sure that you are getting a dietary supplement developed with the use of advanced production technology, in accordance with pharmaceutical standards!
Ingredients
43.3% beta-alanine, acidity regulators - citric acid, malic acid; 11.7% sodium bicarbonate, 8.7% potassium salts of orthophosphoric acid, creatine monohydrate, anti-caking agent - silicon dioxide; flavors, 1.3% L-histidine hydrochloride, sweeteners - acesulfame K, sucralose, cyclamates (Z); dyes: carotenes (A), carmines (B), riboflavins (C), E 150c (D), E 150d (E), E 133 (F), patent blue V (G), indigo carmine (H), chlorophylls and chlorophyllins (I), curcumin (J), anthocyanins (K), paprika extract (L), betanin (M), charcoal (N); 0.02% pyridoxine hydrochloride - vit. B6. (A) - (Z) - Depending on the flavor of the product for the ingredients used, see the symbols (AZ) next to the date of minimum durability (best before). * - per portion 3 g.

Advice for use
1 serving per day before training - depending on body weight, the following dosage is recommended:
less than 70 kg - 1 serving of 3 g;

70-85 kg - 1 serving of 6 g;

over 85 kg - 1 serving of 9 g.
Add 1 portion (3 g of powder = 1 scoop) to 80 ml of water. The 6 g and 9 g portions dissolve in 160 ml and 240 ml of water, respectively. To be consumed directly after preparation.
Cautionary note
Not suitable for children and adolescents. Do not exceed the recommended daily dose. Food supplements should not replace a varied and balanced diet. A varied and balanced diet and a healthy lifestyle are recommended. Vitamin B6 helps reduce fatigue and exhaustion.
Warning: the product should not be taken during pregnancy, breastfeeding and by people with hypersensitivity to any of the constituents of the preparation. Some people may experience a tingling or numb sensation after consumption. This is a temporary effect which is attributed to the strong effect of beta-alanine. It does not affect the health. Keep out of the reach of children.