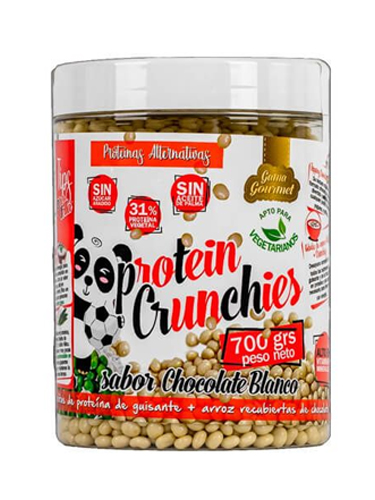 PROTELLA PROTEIN CRUNCHIES (White Chocolate, 700g)

Quick overview
Plant-based proteins: rice and peas.
Perfect for sprinkling on yogurts, cereals or desserts
No added sugar
Enriched in vitamins and minerals
Palm oil-free

14,99 €
$ 16.49
$ 21.89
14.99

Ship to

calculate shipping cost
Secure and reliable payment with

PROTELLA PROTEIN CRUNCHIES
Protella Protein Crunchies are crunchy balls of chocolate peas and chocolate-coated rice, perfect for any type of diet. They are delicious as a snack to complement your breakfasts, yogurts, cereals, or desserts.

They contain 30% plant protein per serving and are rich in vitamins and minerals. They are palm oil-free and with no added sugar.

Ingredients
Chocolate covering 65%: Cocoa butter, sweetener (maltitol), skim milk powder, soy lecithin, vanilla aroma. 35% cereal: Pea protein, rice flour, chocolate aroma and sea salt.

Allergen information
May contain traces of milk, egg, gluten, soy, crustaceans, sulfur dioxide and nuts.

Advice for use
Add a serving (25 g) to your snacks, breakfasts, yogurts, cereals or desserts.

Cautionary note
Do not use as a substitute for a balanced and varied diet.
Do not exceed the recommended daily dose. Keep out of the reach of children.