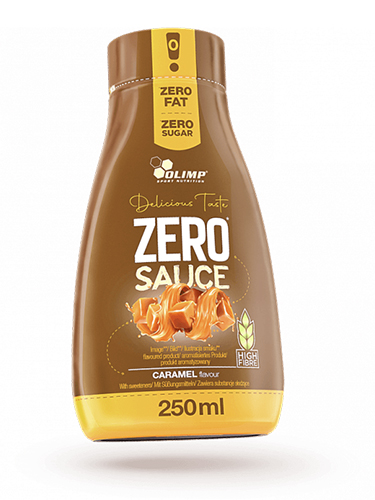 OLIMP SPORT NUTRITION Zero Sauce (Caramel, 250ml)

Quick overview
Excellent alternative for sweet desserts. Delicious flavors. No sugar, no fat. Low energy value.
5,86 €
$ 6.45
$ 8.56
5.86

Ship to

calculate shipping cost
Secure and reliable payment with

OLIMP SPORT NUTRITION Zero Sauce
Do you want delicious pancakes topped with a double chocolate flavor? Or maybe a dessert in the form of a brownie covered in caramel or a protein ice cream covered in strawberries? No problem ! Zero sauces from the Olimp Sport Nutrition are a solution designed for people who care about their diet and their figure, and who like a sweet and pronounced taste.
The sensational taste is not the only advantage of zero sauces from Olimp Sport Nutrition! The product prepared in the modern research and development center of the pharmaceutical company Olimp Laboratories has an excellent consistency and, most importantly, does not contain any sugar* or fat*! In addition, it provides a good amount of these precious dietary fibers.
By taking the Olimp Sport Nutrition zero sauces, you have several delicious flavors to choose from.
Eat tastier with Olimp Zero Sauce! With our sauces, diet and healthy eating won't become boring!
Ingredients
Water, thickeners – cellulose gum, xanthan gum; inulin, sweeteners – xylitol, sucralose; aromas, coloring – carotenes; black carrot concentrate, preservative – potassium sorbate, sodium benzoate; acidity regulator – citric acid.
Allergen information
The product may contain traces of milk, soya, mustard and celery.