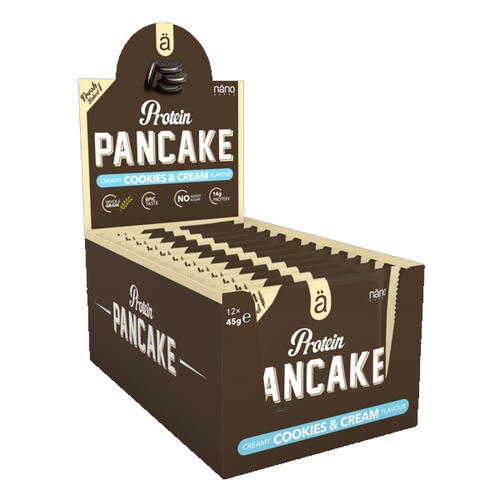 NANOSUPPS Ä Protein Pancake 12x45g (Cookies & Cream)

Quick overview
16 g of protein per pancake. Only 2 g of sugar per pancake. Made with high quality Ultra-Whey (VOLAC). Made with eggs from free-range hens. With wholemeal flour
25,54 €
$ 28.09
$ 37.29
25.54

Ship to

calculate shipping cost
Secure and reliable payment with

NANOSUPPS Ä Protein Pancake 12x45g
Lovers of protein pancakes will be delighted. These soft filled pancakes with delicious protein cream give new emphasis to sports nutrition. The pancake dough is composed of Ultra-Whey Protein (VOLAC Volactiv), wholemeal flour and eggs (open air). The filling of a delicious protein whipped cream.
Ingredients
Pancake: Water, Whey Protein (VOLAC Volactive Ultra Whey 80 Instant), Egg Yolk, Humectant: Glycerin, Whole Wheat Flour, Sunflower Oil, Bulking Agents: Disodium Diphosphate, Sodium Carbonate & Calcium Carbonate, Maize Starch, Sweetener: Sucralose, Salt, Preservatives: Potassium Sorbate & Sodium Acetate
Filling: Water, Sweetener, Flavoring, Modified Starch, Refined Vegetable Fat, Thickener: Carboxymethylcellulose, Flavorings, Salt, Preservative: Potassium Sorbate, Emulsifier: Polysorbate 60, Colorant: Beta Carotene.
Allergen information
Contains Milk, Egg, Wheat. May contain traces of Milk and Soy