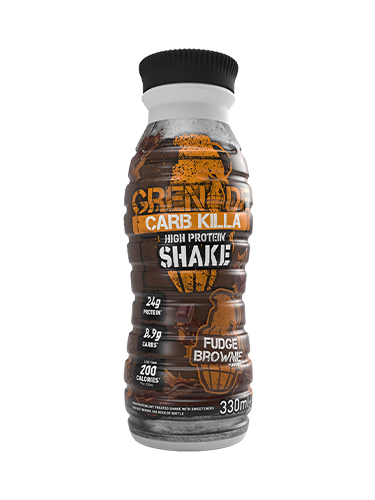 GRENADE Carb Killa Shake (Fudge Brownie, 330ml)

Quick overview
Full of flavor and high in protein, the Carb Killa® Shake is the perfect way to boost your protein intake without the unwanted calories and carbs!
2,89 €
$ 3.18
$ 4.22
2.89

Ship to

calculate shipping cost
Secure and reliable payment with

GRENADE Carb Killa Shake
Discover the Carb Killa® protein shake, developed following the worldwide success of the iconic Carb Killa® bars. With less than 211 calories and up to 25g of protein in each 330ml shake, they're the perfect choice for healthier snacks. Perfect for wrapping up protein between meals, this protein shake delivers tons of flavor without unwanted calories or carbs.
Ingredients
Water,is skimmed, mixture of proteins (calcium caseinate (milk), concentrated whey protein (milk)), cream (milk), banana puree (0.8%), modified starch, cocoa powder (0 , 4%), stabilizers: gellan gum, carrageenan; Sweeteners: Acesulfame K, Sucralose; Natural Flavor, Salt, Enzyme: Lactase.
Allergen information
For allergens, see ingredients in bold. May contain traces of egg, soy, nuts and sesame seeds.
Advice for use
You can consume Carb Killa® Protein Shake any time of the day. It's a great post-workout pick-up and a perfect snack to keep you going throughout your day, this protein shake can be enjoyed on any occasion but should always be consumed as part of a balanced diet.
Carb Killa ® shakes are best served chilled. Once opened, make sure to keep cool to maintain freshness and consume it within 12 hours. For the expiration date, see the neck of the bottle. UHT treaty.